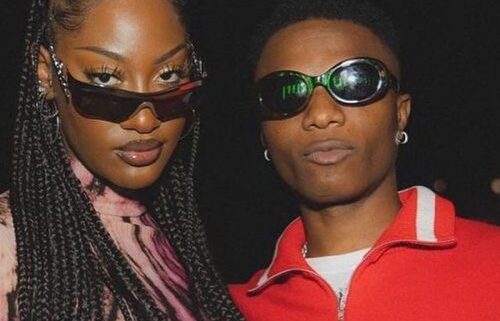 Black Immigrant Daily News
The Voice Newspaper has reported that the UK Home Office has launched what has been described as the "biggest attack on a Black music genre by British authorities, since Dancehall in the 1990s".
According to the publication, Afrobeats artists are now the subject of scrutiny, as the Home Office has denied dozens of the genre's stars' visas to perform in Britain.
The Voice report, which was published today, said that the publication had conducted an investigation which found that the department had stopped at least 20 singers from entering the UK to perform at Afrobeats festivals.
It also said that both singers and producers have warned that "the hostile environment against the world's fastest-growing music genre risks top names boycotting the UK."
The reference to Dancehall which was drawn by The Voice, though, appears to be to the 2000s and 2010s. In 2012, for example, Sizzla Kalonji was banned from performing in the UK, while Beenie Man, Buju Banton and Elephant Man were placed under investigation for lyrics that the authorities thought were inciting violence against homosexuals.
In April 2011, several of Vybz Kartel's shows which had been set for the UK, were cancelled due to his work visa application being denied by the UK High Commission in Kingston, just days before his schedule European tour. This denial had resulted in a several promoters cancelling shows booked in Germany, Italy, England and France.
In November 2004, the Manchester Evening News had also reported that Government sources had denied Sizzla Kalonji a visa to enter Britain, as his lyrics "are claimed to incite attacks on gays".
According to the publication, all five of the shows for which the Dry Cry artist was booked "were scrapped after gay rights group Outrage! launched a massive campaign" to have him barred.
Back in July 2006, concerts for which Buju Banton and Beenie Man were booked were canceled in Brighton and Bournemouth after complaints from gay rights groups and a warning from the local authority that it risked losing its license because the performance could endanger public safety.
Unlike the Dancehall artists however, The Voice notes that in the case of Afrobeats, "West African artists are treated with more suspicion despite being part of a multi-million dollar industry, and when visas are granted to stars, their dancers have been turned down."
"Afrobeat stars fume that Britain is the hardest embassy in the world to deal with, and they are routinely given short stays of just two weeks which prevents them from making the most of their visit," the publication said.
In August last year, the Home Office was also rebuked for what some Britons described as hostility to iconic Roots Reggae band Black Uhuru after the group was forced to cancel their UK tour after the Home Office issued visas with unreasonable time limits.
The Jamaican band, which won the first-ever Grammy Award for a Reggae Recording back in 1985, had been booked to perform at the Jazz Café in Camden, London, on Saturday, September 3, as part of their 50th-anniversary tour. However, the promoters had cancelled the event as the UK Home Office had failed to give group adequate time in the country to allow them to meet the September show date.
Dancehall music has had many struggles in the UK, even in recent times. In March 2016, the BBC reported that a nightclub owner in London had disclosed that the Metropolitan Police had told him to stop playing Dancehall music, as Jamaican music is "unacceptable."
According to the BBC, the club owner had said that he was under so much pressure that he had started making disc jockeys sign contracts not to play the genre, as the police want the club's license reviewed, saying it's "associated with crime and disorder."
One Afrobeats artist's management team with whom The Voice spoke, had reported that all requisite documents were presented, but "that Home Office officials turned the application down after questioning why his UK-based sponsor had so much money when they were so young."
The report also said that numerous artists from the African continent have had their visa applications denied, but are unwilling to speak publicly about it, due to a "stigma attached to visa refusals from Britain, which many believe will tarnish their brand and reputation."
The Voice also said that musicians from Ghana who wish to travel to Britain for festivals and concerts have described the British Embassy as "the most difficult embassy to work with."
Ghananian Reggae musician and three-time Grammy nominee Rocky Dawuni also gave his views on the matter, noting that once Afrobeats musicians can prove they are "credible" and "established in their own country," regulations should be eased and assistance fast-tracked for the artists.
According to The Voice, Dawuni also said he was unsure whether or not there is a "bigger plan to suppress" African music and "keep it at bay" and that it might be due to a "misplaced policy."
"It is diminishing the music at a time when African music is on the rise, African music is breaking new boundaries and African music is connecting with new audiences," he said.
Follow us for daily Dancehall news on Facebook, Twitter and Google News.
NewsAmericasNow.com
https://www.temponetworks.com/wp-content/uploads/2023/03/tems-wizkid-AT4cVU-500x500-GiDeCS-my6nUF.jpeg
500
500
https://www.temponetworks.com/wp-content/uploads/2018/05/TEMPO-Logo-RGB-copy-300x300.png
2023-03-31 19:14:17
2023-03-31 19:14:17
UK Home Office Reportedly Denied Dozens Of Afrobeats Artists' Visas